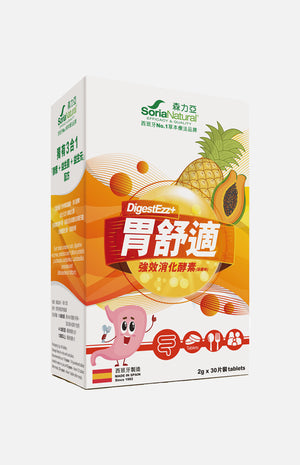 Soria Natural Inulac (Pineapple Flavour) (30 Chewable Tablets)
Soria Natural
Regular price $158.00 HKD $158.00 HKD Sale
Highlight :
Contain 1 Billion probiotics providing powerful digestive support to restore natural flora
Reduce sensation of heaviness and swelling of stomach effectively
Improve intestinal flora regeneration
Suitable for people concerned in the digestive system
Ingredients :
Inulin, Diastatic malt extract, Papain, Lactobacillus acidophilus, Lactobacillus casei, Bifidobacterium bifidum
Spec.: 30 chewable tablets, 2g per tablet Validity: As shown on package Storage: Avoid direct sunlight. Store in cool and dry place. Directions: For adult: Chew 1 tablet after meals, 1 -4 tablets a day; For children aged above 1: Take 1 tablespoon of Inulac powdered and mix with 50ml of water, 1-3 times a day
This product is not registered under the Pharmacy and Poisons Ordinance or the Chinese Medicine Ordinance. Any claim made for it has not been subject to evaluation for such registration. This product is not intended to diagnose, treat or prevent any disease.
---