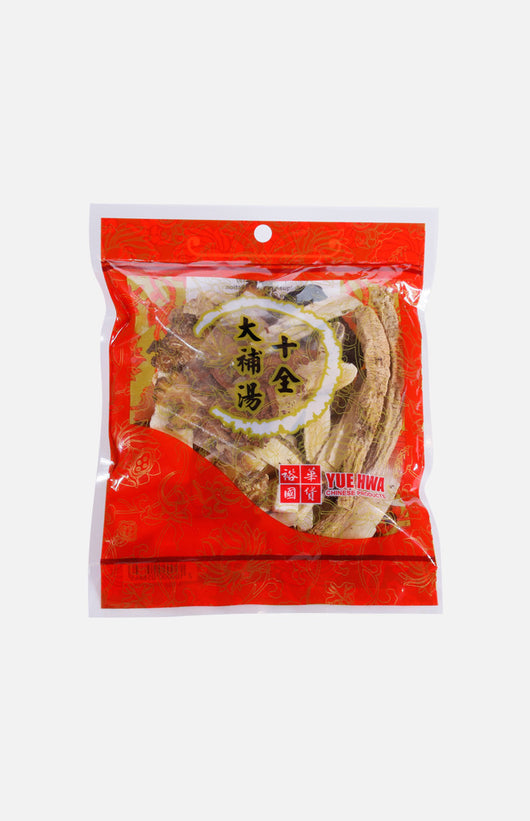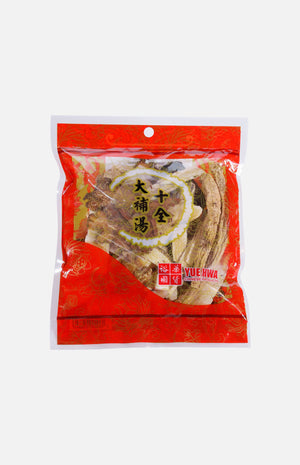 Tai Poo Decoction (Ten Tonic Herbal Medicine Decoction)
Yue Hwa
Regular price $65.00 HKD $65.00 HKD Sale
Highlight :
Replenish qi and tonify blood, invigorates the spleen and harmonizes the stomach, dispelling wind and removing dampness
Ingredients :
Rhizoma Chuanxiong, Radix Codonopis Pilosulae, Radix Astragali, Radix Angelicae Sinensis, Rhizoma Atractylodis Macrocephalae, Cortex Cinnamomi, Radix Paeoniae Alba, Poria, Rhizoma Rehmanniae Praeparata, Radix Glycyrrhizae
Direction: Add meat & three bowls of water. Cook on a low free for 2 hours. May add some salt. Serves 1 person to 2 people.
Expiry Date: 

3 years. The specific date on the real object should be considered as final. Please follow the instruction on the product.
Storage: Keep in refrigerator or do not leave in sunlight
Not suitable for people suffering from fever or influenza
Please soak the herbs with water for half an hour before cooking
---